An experience you will never forget.
See what others say here.
Take a guided tour on our imported state of the art trike, the only one of it's kind in South Africa, to some of the Cape Peninsula's most scenic destinations. We are offering some pre-set basic routes. (see Tours for details)
Our trike can carry two passengers, but tours can be done for one person as well.

We are also available for
Weddings
Birthdays
Matric functions
CAPE TOWN TRIKE TOURS
was born out of an idea that Cape Town tourism needed something
new
,
innovative
, and
exciting
with regards to guided day tours. Upon doing research, it was found that no one was doing trike tours in Cape Town. After extensive research into the different brands of trikes, their performance, their build quality, their safety features, etc, etc, an order was put forward to a company in the UK for a German made trike called
BOOM
. This company have been building trikes for more than 24 years now, so they have pretty much perfected the art of building them. Apart from the driver, our trike can comfortably take two passengers.
Trike it...you'll LIKE it!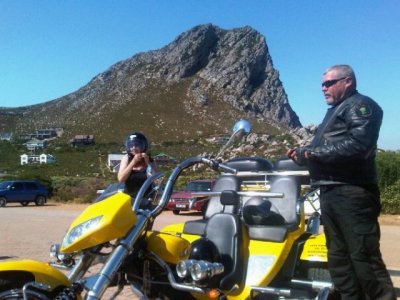 Your tour guide with the BOOM trike you`ll ride...